What do Local Governments do?
To understand how local governments can serve you, it is important to understand the types of local governments in New York State. Local Government in New York State is comprehensive. There are 1607 general purpose local governments in New York State, each with its own governing body and taxing authority. These have evolved in response to legislative initiatives enacted when residents wanted to be physically close to their elected representatives because travel was time-consuming and arduous. In the digital information age, these considerations may no longer be relevant, yet we retain the legacy of a fragmented and unsustainable system of governance. New York also houses many other special purposes governments and districts that impact a resident's tax bill.
Article IX of the State Constitution required the State Legislature to enact a "Statute of Local Governments" granting certain powers to local governments. Among the powers granted is the power to adopt ordinances, resolutions, rules and regulations; the power to acquire real and personal property; the power to acquire, establish and maintain recreational facilities; the power to fix, levy and collect charges and fees. Article IX of the State Constitution was implemented in 1964 by the State Legislature through the enactment of the Municipal Home Rule Law, which reiterates and explicates the constitutional local law powers and provides procedures for adopting local laws. Home rule in its broad sense describes those governmental functions and activities traditionally reserved to or performed by local governments without undue infringement by the state. In its more technical sense, home rule refers to the constitutional and statutory powers given local governments to enact local legislation in order to carry out and discharge their duties and responsibilities.
The Local Government Handbook »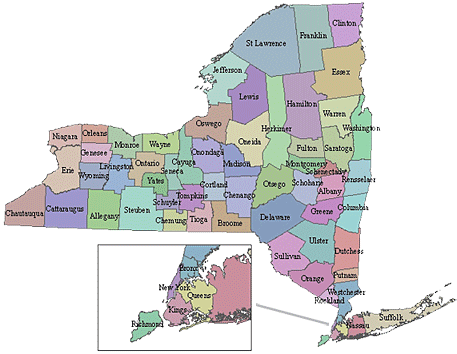 County Governments
Counties are New York State's largest and most inclusive form of local government, but probably the most limited in the services that a government can provide. Every citizen in New York State, including New York City, lives within a county. There are 62 of them. The functions of county government at the beginning of the twenty-first century scarcely resemble those of colonial times. Counties have developed as partners with the state to provide many of state mandated services, including Medicaid and other social services and management of jails and prisoner retention. They may also provide police services, maintain certain roads and transportation infrastructure and provide economic development assistance. As the largest of New York's local governments, the county is the convenient level of government to develop regional responses to common problems and opportunities.
Social services programs such as Medicaid and Aid to Dependent Children, remains the largest category of expenditure for county government. However, the share of the distribution of expenditure for this category has declined as expenditures in other categories have increased and accounting for Medicaid expenditures has changed. In 1980, county expenditures for Medicaid reflected the entire cost of the program (counties paid the full cost and were then reimbursed from state and federal sources). Since 2003, however, county medical expenditures reflect only the county contribution (roughly 25 per cent of total Medicaid costs), making comparisons between these years difficult. The greatest percentage of growth in dollar terms has been in the education category, which includes the counties' obligation to pay for the education of pre-school special education children as well as the costs of providing community college education to county residents. Police and public safety has also experienced significant growth and expenditures, accounting for the cost of operating a jail in addition to the expenses of a sheriff's department, plus probation and rehabilitation services. General government includes staffing and administrative costs of county officials, the district attorney, public defenders, maintenance of buildings and other central operations.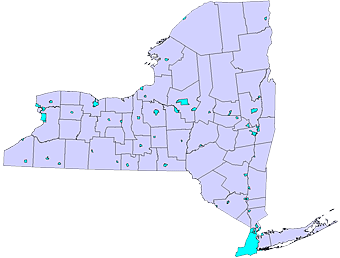 City Governments
There are 62 cities in New York State, ranging in size from the City of New York at over 8.1 million residents to the City of Sherrill with a population of just under 3,100. Citizens who live in a city also live in within a county. Although cities have the home rule power to revise their charters and adopt new charters, this authority is not unlimited, and must be exercised in accordance with the State Constitution and the Legislature's grant of local law powers to cities. Cities have the right to take all measures and do all acts by local law, which would include adopting and amending charters that are not inconsistent with the State Constitution, and are not inconsistent with any general law of the State.
Generally, city charters address the basic organizational actions of the city including the name, boundaries, powers, fiscal year, type of legislative body and other administrative processes. Cities have the authority to provide a variety of local government services directly to its residents including water and wastewater infrastructure, public safety services, economic development, social services and many other general purpose activities of government.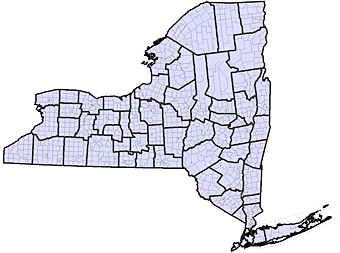 Town Governments
There are 932 towns in New York State, each of which exists in a county. Every citizen in New York State that does not live in a city lives in both a town and a county. Generally towns were established in the 1700-1800s to carry out general governmental functions on a more local level, rather than as a state service. These general functions cover the basic town-wide services still provided by the town and the cost is imposed town-wide. These general town-wide functions include highway maintenance, police services, recreational services, property assessment and other general services.
However, towns are not permitted to provide fire services on a town-wide basis. For this function, like many other functions, towns create and administer special districts to levy an assessment on the residents in separate areas of the town to cover the specific cost of that service. These include fire services, which can be provided through a fire protection district or an independent fire district run by commissioners, street lighting, water and wastewater services, drainage, sidewalks and other types of specialized services.
The operational organization of towns displays the same lack of sharp definition encountered in the legislative, executive and judicial branches of town government. Although there has been de facto departmentalization by many towns, and formal departments have been created in some instances, by specific statutory authorization or by home rule enactments, there is no general provision for departmental organization.
It might be use useful to differentiate the town operational structure into two general categories:
services provided and functions performed on a town-wide basis, including services to villages; and
those provided to part of the town, either to the entire area of the town outside existing villages (the "TOV") or to a specific district or area of the TOV.
Special districts have been established, extended and consolidated until, by the end of 2010, there were approximately 6,927 improvement districts in existence — an average of more than seven for each town in the state.
Over the years, village taxpayers' responsibility for sharing the cost of town highways has been one of the most controversial aspects in town-village relationships. Consequently, there has been a continual search for ways of reducing this friction and promoting equity in the distribution of costs. One compromise permits towns to exempt village property from assessment for the cost of acquisition and repair of highway machinery, the cost of snow removal, and several other miscellaneous items.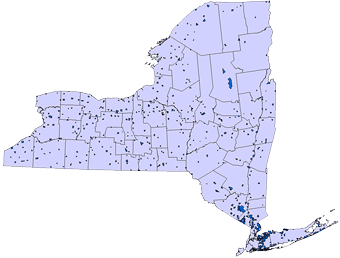 Village Governments
Villages in New York State must exist within a town. Every citizen in New York State that lives in a village lives in 3 different municipalities: a village, a town and a county. Villages are also the only form of general purpose local governments that truly exist at the discretion of its residents. Villages can be created or dissolved by local initiative, a structure that enables residents of villages to respond to the need to provide specific services in areas with a high density of population. Villages are also sometimes established as a result of a difference in development philosophies of citizens and town officials.
Differences in the size of villages and in the services they perform make it difficult to describe the organization of a "typical" village. Larger villages often have multi-departmental organizations similar to cities, while small villages may employ one or two individuals. Functions performed by villages range from basic road repair and snow removal to large-scale community development programs and public utility plants. A number of villages operate their own municipal electric systems.
There are 551 villages in New York State, after the dissolution of the four Villages of East Randolph, Perrysburg, Randolph and Seneca Falls December 31, 2011.