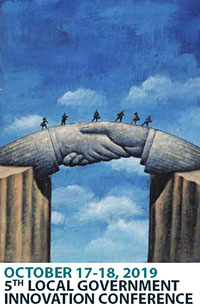 What
Hosted by New York Secretary of State Rossana Rosado, the Local Government Innovation Conference will bring together local government officials from across New York State to discuss new opportunities for innovation in the delivery of local government services. The conference will offer a keynote address and workshops from government efficiency and consolidation practitioners.
Agenda
Workshop Descriptions
Directions to the Empire State Plaza
Concourse Map

When
Reception: Thursday, October 17, 2019, 5:30 PM – 7:30 PM
Conference: Friday, October 18, 2019, 8:00 AM – 5:00 PM
Where
Reception: Cornerstone at the Plaza, Empire State Plaza
Conference: Empire State Plaza, Concourse Level, Meeting Room 6
Thank You!
We at the Department of State would like to thank everyone who attended this year's Local Government Innovation Conference. We appreciate your taking the time to come and interact both with our staff and with our amazing guest speakers. We hope the conference was as informative and worthwhile to all of you as it was for us.
We'd like to give special thanks to all of our speakers and moderators for coming and sharing your knowledge and expertise, which helped make our conference a success! Thank you!